DUE TO COVID-19 WE ARE TAKING THESE PRECAUTIONS FOR YOUR SAFETY:
All employees are required to wash their hands before and after using gloves and/or after directly handling used food service items.

We are serving each guest at mealtime by plating their food for them, instead of a buffet or family-style meal.

We are also requiring our kitchen and guest services staff to wear masks during group visits.
The kitchen and dining hall at Hidden Falls Camp & Conference Center can feed hundreds of hungry visitors every day. Meals are served buffet style with flexibility for meal times to fit your schedule. We're happy to accommodate any specific dietary needs. Please contact us ahead of time so we can plan your menus accordingly.
Breakfast   Starting at $7.00/person
Lunch         Starting at $8.00/person
Dinner        Starting at $9.00/person
With your cost comes the standard meal options for breakfast, lunch and dinner along with one entree and one side for each meal.
A full salad bar is available for an additional $2/person. There will be additional charges for added entrees or added sides. 
Customization of menu options available with upcharge. Contact us for more options and pricing for extra items.
Snacks can be delivered or provided in the dining hall.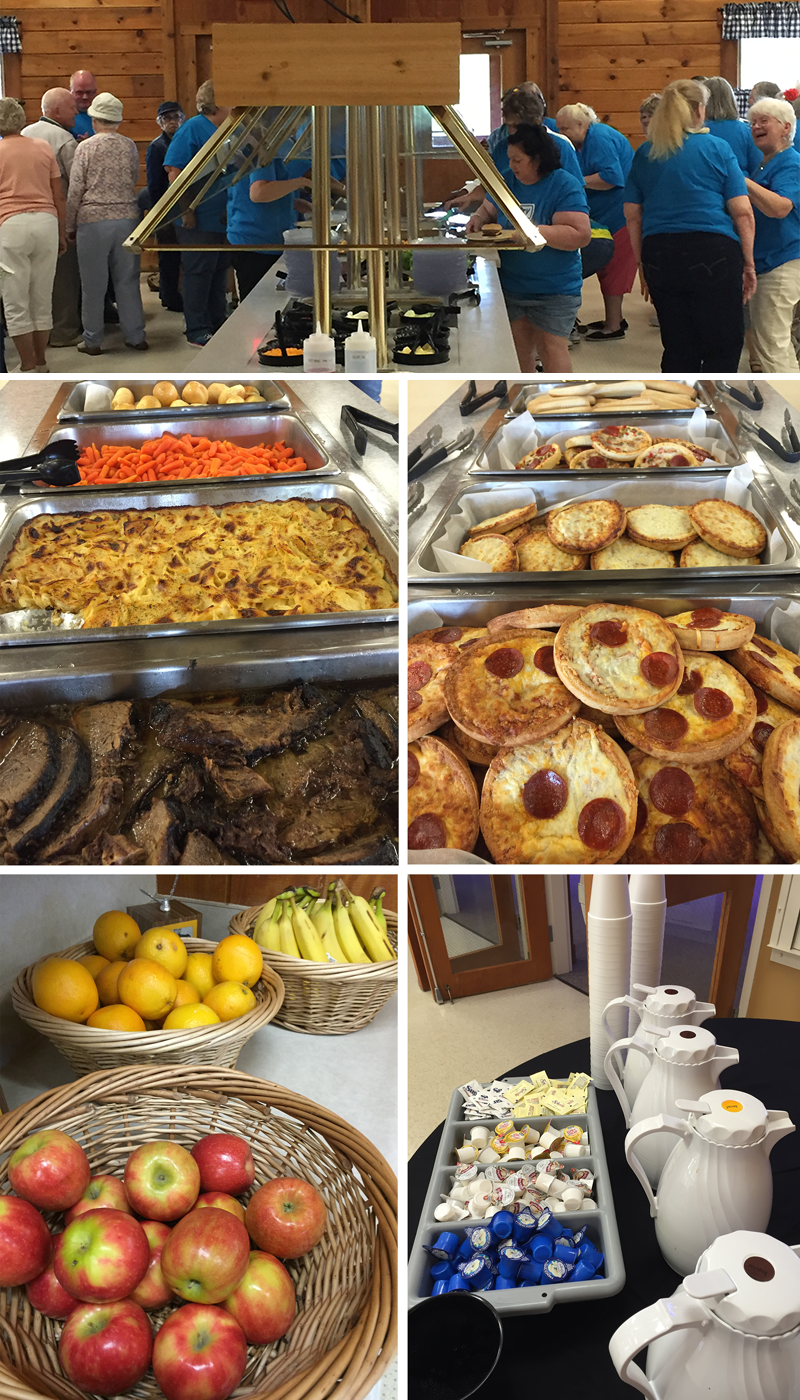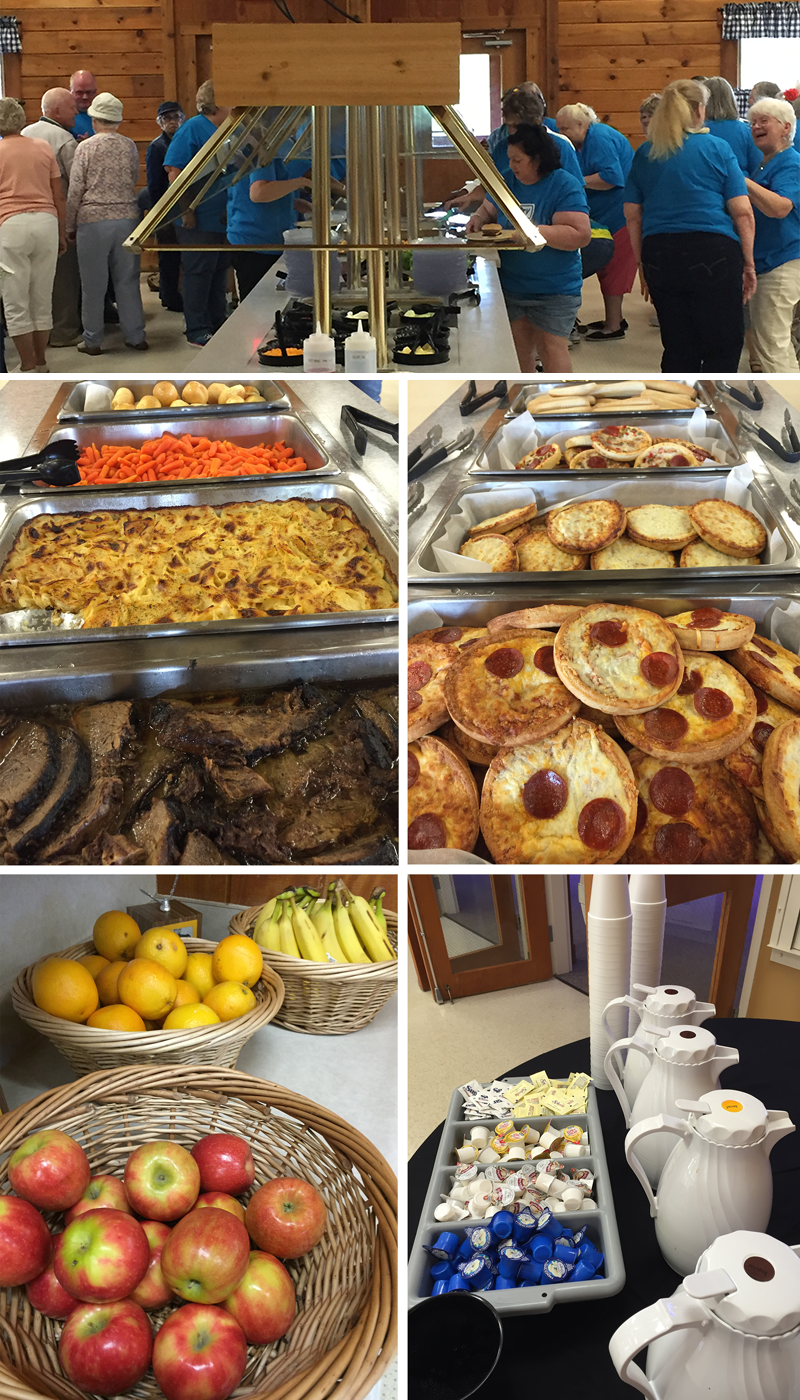 Breakfast Standard Offerings
Fresh Fruit

(choice of bananas, oranges or cuties, seedless grapes, apples, plums, pears)

Vanilla and Strawberry Yogurt w/toppings
Cold Cereal Bar (Varied)
Toast Station

(bread, assorted bagels, butter, cream cheese and assorted jellies)

Assorted Muffins
Coffee Station (Regular and Decaf + Sweeteners and Creamers) / Hot Tea
2% Milk and Ice Water Pitchers
Breakfast Entrees
Pancakes w/Syrup
French Toast w/Syrup
Waffles w/Syrup
Biscuits and Sausage Gravy
Breakfast Sandwiches
(English muffin or croissant, egg, cheese, sausage or ham)
Sausage or Bacon Egg Bake
Scrambled Eggs or Cheese Omelets
Breakfast Side Dishes
Bacon
Sausage Links
Hash Browns
Oatmeal
Fresh Cut Fruit
Lunch Standard Offerings
Dessert (Cookies, Brownies, Pudding, Jello, Cake, Pie, Churros, Cobbler, Ice Cream or Cook's Choice)
Fresh Fruit
Coffee Station (Regular and Decaf + Sweeteners and Creamers)/Hot Tea
Juice Bar
Ice Water
Lunch Entrees
1/4 Lb. Hamburger w/Bun, Lettuce, Tomato, Pickle and Onion Slices and Condiments
All-Beef Hot Dog w/Bun, Diced Onions, and Condiments
(Chili Dogs also available)
Grilled Chicken w/Bun, Lettuce, Tomato Slice, and Mayonnaise or BBQ Sauce
Sloppy Joe OR Pulled Pork w/Bun and Condiments
Chicken Nuggets or Tenders and Condiments
Personal Pan Pizzas (Pepperoni, Cheese, or Deluxe)
Build Your Own Wraps or Sandwiches: Cold Cuts & Cheese,  Lettuce, Tomato, Onion and condiments
Philly Steak & Cheese Hoagies
Pick 2: Taco Salad, Chicken Caesar Salad, Waldorf Salad, Spinach Strawberry & Feta Salad, Greek Salad, Garden Salad
Orange or Sweet and Sour Chicken
Chicken Pot Pie
Lunch Side Dishes
French Fries or Tater Tots or Potato Chips
Macaroni and Cheese
Baked Beans
Soup or Chili Con Carne w/Oyster Crackers and Cheese
White Rice, Spanish Rice, Rice Pilaf
Vegetables (Broccoli, Corn, Green Beans, Carrots, Blended Veggie Mixes)
Rolls
Mashed potatoes
Cole Slaw, Potato Salad or Pasta Salad
Dinner Standard Offerings
Dessert (Cookies, Brownies, Pudding, Jello, Cake, Pie, Churros, Cobbler, Ice Cream or Cook's Choice)
Beverage Bar (Juice, Tea, Water)
Coffee Station (Regular and Decaf + Sweeteners and Creamers)/Hot Tea
Dinner Entrees
Any Breakfast or Lunch Entrée for Dinner
Roast Beef or Roast Pork or Roast Turkey Breast
Salisbury Steak
Swedish Meatballs
Oven Roasted Chicken (Bone in or Boneless)
Pasta (Spaghetti w/Meatballs or Alfredo w/Chicken)
Taco Bar (Chips & Soft Shells, Beef or Chicken, Cheese, Vegetables, Sour Cream)
Lasagna (Meat, Three-Cheese, Vegetable and/or Southwest)
Chipotle or Italian Chicken
Fried Chicken
Dinner Side Dishes
Any Breakfast or Lunch Side Dish for Dinner
Mashed Potato w/Gravy, Scalloped Potatoes, Baked Potato, Rosemary Red Skin Potatoes
Corn, Carrots, Green Beans, Broccoli, California Blend, Key West
Blend, or Sweet Potatoes
Refried Beans, Nachos with Cheese
Dinner Rolls, Bread Sticks or Garlic Bread
Egg Rolls or Spring Rolls
Snack Options
Fresh Baked Cookies or Brownies
Personal Pan Pizza (Pepperoni, Cheese, or Supreme)
Pick 3: Mozzarella Sticks, Onion Rings, Taquitos, Egg Rolls, BBQ Chicken Wings, Veggie Pot Stickers, Quesadillas
Nacho Chips w/ Cheese
Churros
Freshly Popped Pop Corn or Assorted Chips
Hotdogs w/bun and condiments
Ice Cream Sundaes (Make Your Own)
Fresh Fruit w/Cheese and Crackers
S'Mores (Make Your Own)…Roasting Sticks Available
Snack Shop (variety of candy, drinks, chips, ice cream, clothing and more)
Coffee Bar Delivery